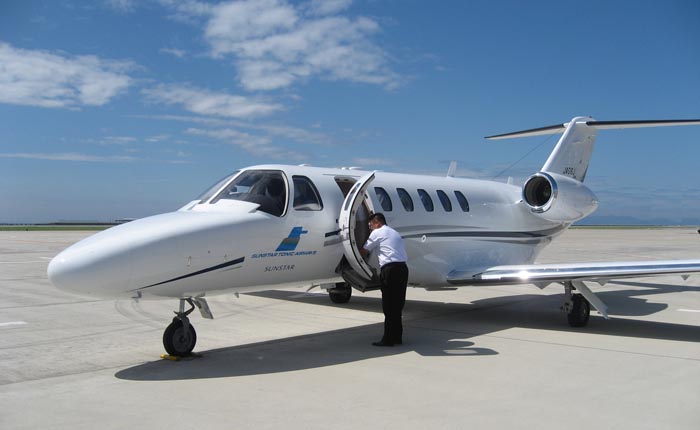 Service
From take off to landing, you can use the private jet according to the points listed below. With private jet travel, there are no bothersome check in procedures or boarding passes. Your route and travel time are up to you.

1) Departure/Arrival
At every airport, specialized ground staff will be waiting to guide you to your aircraft. Additionally, staff will be waiting at your destination to take you from your private jet to the exit.
2) Baggage Storage
There are two storage rooms located at the front and back of the jet. The storage space in the rear of the cabin has enough room to safely store four golf bags.
3) Cabin interior
In the CJ1+ and CJ2+ cabins, seats can be moved forward and backward and also turned around. After you reach your seat, you can rearranged its position to create a comfortable space where you can relax.
CJ1+ and CJ2+ jets have four arranged in two rows. For long distance flights, the seats can be positioned facing one another and used as sleeper seats.
A powder room is located at the cabin rear, where there is a toilet and a compartment to store jackets and coats. The powder room is separated from the main cabin by a sliding door.
There will be no in-flight food and beverage service unless previously arranged.
4) Concierge Service
To keep the private space during the flight, normaly we do not supply concierge staff.
But or customers request to have concierge staff accompany them on the flight, a separate fee will be charged.